Looking for a last-minute Thanksgiving garland that the kids can help you make? Look no further! These festive garlands are simple, cute, and the perfect touch to your Thanksgiving meal.
Free, Printable Grateful Garland
This DIY garland involves a free printable that makes this craft insanely easy. Simply print out the templates, cut them, write what you're grateful for, string them together, and you're done. You could even place one sheet at each plate and make the garland before eating dinner!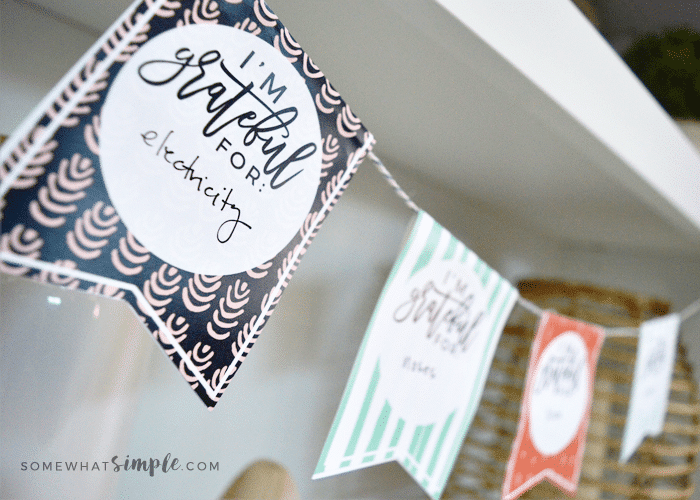 Festive Feather Banner
This feather banner adds an elegant touch to your Thanksgiving dinner. Plus, all you need is feathers, gold spray paint, a glue gun, and string!
Cheery Be Thankful Banner
This colorful duo banner is a little more involved, but we think it's worth the extra effort. The top banner is made of wooden beads and felt leaves, and the bottom banner is made out of felt cut-out letters.
Easiest Thankful Banner
This simple Thanksgiving banner calls for construction paper, markers, scissors, and clothespins. and string. All you have to do is cut out leaf shapes, write what you're thankful for, and use a clothespin to attach the leaf to the string. And who says we should only be thankful on Thanksgiving; why not leave it up for a few months!
Burlap Thanksgiving Banner
You'll want to save this burlap banner and use it every year! This craft also links to free, printable cutouts you can use.
A Thanksgiving garland is a great way to add a little more festivity to your home, as well as some extra reminders of all that you have to be thankful for. At Country Home, we're thankful for all of our kiddos and their families!